Wheels made in white elastic rubber on Ditherm® core
-40°C +300°C | -40°F +572°F
Enter Ditherm RXT series
---
The wheel core of the RXT series is manufactured in special Ditherm® compound, combined with special fibers and molded under an innovative DC developed high pressure + extreme temperature process, and its tyre is made in a special high quality elastic rubber for high temperatures.
The white rubber tyre is mechanically bonded to the wheel core, and the coupling is further strengthened by a surface adhesion which is obtained without the use of any glue or vulcanization such as for almost any competition product.
This particular bonding is resulting in the highest quality wheel in its range of application, featuring a drastic reduction in the risk of tyre de-bonding during the work in temperatures.
They are available with several types of hubs and bearings, in order to allow the perfect response and the best need / price ratio for any type of high or low temperature requirement.
The RXT wheels can be fitted into a specific series of brackets for high/low temperatures, which are specifically studied and produced to fulfill the extremely wide variability of conditions to which they are submitted in the world of uses in temperatures and bakery / food industry.
Brackets are fully certified and manufactured with food and sanitary grade Stainless Steel in AISI 304 / 316, and are available in both metric and inches standard sizes, and are also available in double-layer galvanized pressed steel.
They are RoHS - REACh compliant, and the permanent lubrication has been approved by FDA-USDA for contact with foods.
A computerized control of the swivel head ball race and assembling tolerances assures a perfect plate rotation without locking point.
Brake system is perfect for low and high temperatures and for inside-outside use and is maintenance free.
USES : The DITHERM RXT wheels are manufactured to resist to a range of temperatures between -40°C and +300°C.
They features a high resistance to water, most solvents, oils, acids and chemicals, excellent fire-smoke-toxicity properties and are fully certified for use in bakery and food industry, and for oven application requiring temperature of exercise up to +300°C.
These wheel assures also a great work into freezers and in temperature until -40°C and guarantee a high resistance against thermal shock caused by quick increasing or reduction of temperature, allowing these wheels to resist to udden variation of temperatures, permitting to withstand jumps of 340°C in less than 60 seconds, either from cold to hot or reverse.
Ditherm RXT wheels do not mark the floor when the free rolling is secured, but can leave traces of grinded material on dark floors if dragged or locked.
The rubber tyre can be sensitive to impacts with sharp obstacles ( cuts ) or to use over sharp steel drains or griddles.
They are absolutely smooth and noiseless on almost any surface, granting a silent work and an excellent shock absorbing property which makes this wheel perfect for any use requiring a noiseless rolling.
IMPORTANT ! The best performances and life time of the wheel are strictly depending on heating and cooling cycles to which the wheels are submitted ; the maximum performance is guaranteed by cycles of maximum 30 minutes in temperature, followed by the same coolling time at room temperature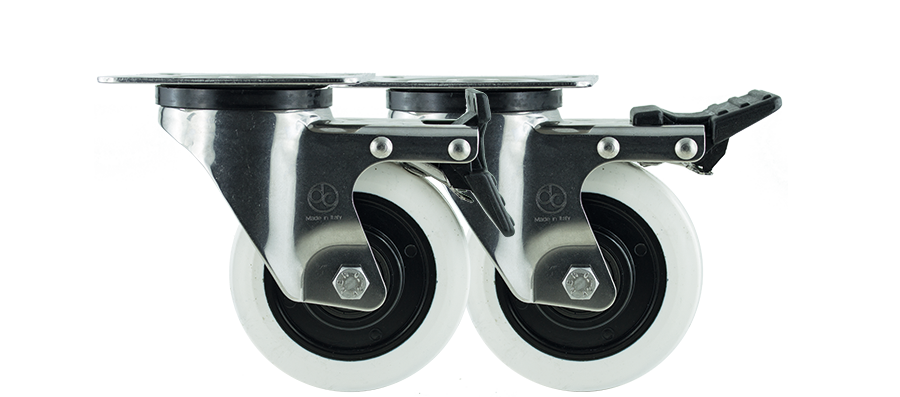 ---