Wheels made in exclusive THT® composite material, high mechanical strength
-80°C +280°C | -112°F +536°F
Enter Ditherm STW series
---
The STW series wheels are manufactured with an exclusive DC Di Candia Ruote's composite material, the THT, which has been studied and developed in our plant in Besnate, and is used exclusively for the production of this wheel range.
These wheels grants a superior and unmatched mechanical resistance to heavy impacts, an outstanding resistance against chipping and breaking caused by hitting of sharp obstacle and a great rolling capacity even in plain bore configuration, thanks to the self-lubricating properties of the THT material.
They also assure an incredible resistance against aggressive cleaners, chemicals, oils, acids, steam and salty water, and are available with plain bore and with double special HT ball bearings, to allow a perfect rolling capacity in any condition of use.
The THT material is certified by FDA for contact with foods.
The STW wheels can be fitted into a specific series of brackets for high/low temperatures, which are specifically studied and produced to fulfill the extremely wide variability of conditions to which they are submitted in the world of uses in temperatures and bakery / food industry.
Brackets are fully certified and manufactured with food and sanitary grade Stainless Steel in AISI 304 / 316, and are available in both metric and inches standard sizes, and are also available in double-layer galvanized pressed steel.
They are RoHS - REACh compliant, and the permanent lubrication has been approved by FDA-USDA for contact with foods.
A computerized control of the swivel head ball race and assembling tolerances assures a perfect plate rotation without locking point.
Brake system is perfect for low and high temperatures and for inside-outside use and is maintenance free.
USES :
The DITHERM STW wheels are manufactured to resist to a range of temperatures between -80°C and +280°C.
They features an incredible resistance to water, humidity and steam, to solvents, oils, acids and chemicals, featuring a great fire-smoke-toxicity properties and are fully certified for use in and food industry, as well as for any oven application requiring temperature of exercise up to +280°C.
These wheel can work into freezers, chillers and blast freezing in temperature until -80°C and guarantee a high resistance against thermal shock caused by quick increasing or reduction of temperature, in fact this material is permitting to withstand jumps of 350°C in less than 60 seconds, either from cold to hot or reverse.
Ditherm STW wheels do not mark the floor, can be used in industrial applications and are recommended for use in bakeries, wet and humid conditions, oven trolleys, smoke tunnels, food industry, autoclave cooking, salty water and steam.
They guarantee a great resistance against heavy and sharp impacts, on uneven floors, asphalt and are perfect for problem-free use on turntable ovens.
MORE INFOS :
Ditherm STW wheels are manufactured through an innovative control of the round and in-axle rotation, to guarantee a perfect rolling in every condition.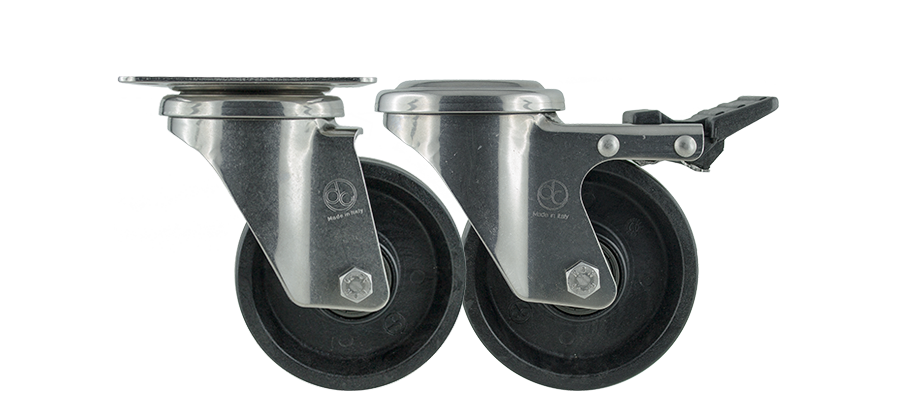 ---